Evan has spent the last 11+ years with MSB Resources, working in many different capacities to help build MSB as the nationally recognized firm that it is today. Evan joined MSB in March of 2007, having worked as a technical recruiter as well as owning and managing his own residential property throughout Philadelphia. Over the last 12 years, he has applied his expertise in real estate property management, construction, finance, and accounting to his foundation in recruiting and has helped hundreds of individuals throughout the country find their dream jobs with real estate firms in all position types. Evan was promoted in 2018 to Vice President of Recruiting, where he continues to work hard to build the recruiting department and lead MSB's continued growth into the future. Evan earned his BS from Ithaca College in Business Management and when outside the office, Evan enjoys being outdoors and surrounded by friends and family.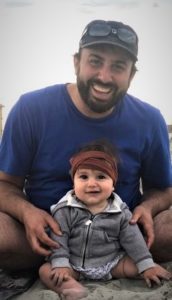 How would you describe yourself in 3 words?
Passionate, laid back, genuine
It's a typical Saturday afternoon at 2pm, what are you doing?
Walking around somewhere in Philadelphia exploring the city and finding new adventures
Where is the best place you have traveled and why?
Croatia – it was a beautiful country with the most amazing people. The history in that region was just amazing and we enjoyed living life at a slower pace, which is generally the pace of much of the country. The entire western part of the country borders the Adriatic Sea and they had the most awesome coastal towns, blue water, and fresh seafood. Just a really great, different experience than any I've had before.
What characteristic to you most admire in others?
Integrity and Honesty
If you could do another job for just one day, what would it be?
A carpenter. I would love to be better at woodwork and building things.
What is the last gift you gave someone?
I bought my friend Rudy an indoor basketball kit and a pair of Miami Heat socks. He loves the Miami Heat and I thought it would be fun to shoot baskets while at his desk.
If you could give advice to your 13 year old self, what would you say?
Don't be afraid to fail – go for it!
Tell us something that might surprise us about you:
I am the treasurer at my local dog park, Palmer Doggie Depot, and am passionate about trying to make it a cooler place to bring the dogs in our community.
What are three things still left on your bucket list?
Visit Italy, swim with great white sharks, witness the Philadelphia 76ers with the NBA Championship
What are you most proud of?
My relationships – my family, my friends, my colleagues, and the people in my life that consider me a friend.