We understand first-hand how to create high-performance teams from the inside out. And we can help you do that in your organization. Here are just a few ways you can develop driven, efficient, and effective teams:
Competency Modeling. We help you identify the core competencies needed for success at your organization. Then, we help you assess the degree to which current leaders possess those competencies and develop any needed skills.
Assessing and Developing High-Potentials. A Chinese Proverb goes "The best time to plant a tree was 20 years ago. The second best time is now." We help you develop tools for identifying future leaders in your organization and recommend how to develop them now.
Leadership Seminars. We deliver impactful programs on topics including creative thinking, problem-solving, persuasion, motivation, the psychology of communication, giving effective feedback and more. Programs can be conducted on-site or virtually.
MBTI Programs. Our Certified MBTI Practitioners will create a custom program where leaders gain critical insights into their own work-related style. We can also provide team workshops so that all team members can learn how to communicate, make decisions, and optimize the various talents of the team.
Help Your Leaders Lead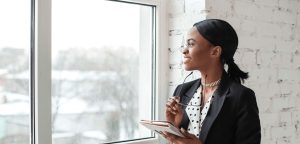 Successful Leadership Development programs often result with a client achieving behavioral and aspirational goals that ultimately contribute to both individual and organizational growth.