Cat is a graduate of LaSalle University and joined MSB in 2019 with over 20 years of Marketing experience. She lives in southern New Jersey with her husband Liam and their four children who come and go so they never know which kid/dog combo will be there when they get home! Cat enjoys travelling to Ireland and England to visit her husband's family and is looking forward to helping design and renovate 300 year-old barns on her brother-in-law's property in Dungarvan, Ireland, into fully accessible vacation homes.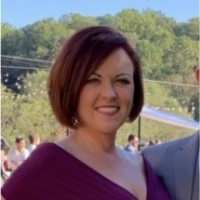 How would you describe yourself in 3 words?
Organized, driven, loyal
It's a typical Saturday afternoon at 2pm, what are you doing?
Anything to avoid going grocery shopping
Where is the best place you have traveled and why?
Galway, Ireland. You can walk anywhere you want to go, the food is fantastic, the people are super friendly and there is music everywhere.
What characteristic do you most admire in others?
Being able to get up in front of other people and act goofy.
If you could do another job for just one day, what would it be?
Anything with driving/racing cars
What is the last gift you gave someone?
Finals survival packages for my Senior & Freshman in college
If you could give advice to your 13 year old self, what would you say?
Stop being so hard on yourself and have fun; don't worry about what other people think about you because chances are they aren't thinking about you at all.
Tell us something that might surprise us about you
If I wasn't terrified of falling off and hurting my back I would be at my sister's farm every day riding horses.
What are three things still left on your bucket list?
1. Visit the Scottish highlands; 2. Go to France (this summer!); 3. Live to 100 so I can get on the Smuckers Jar on the Today Show
What are you most proud of?
My children. They have grown in to amazing adults that I have more fun with every year!