Aubrey fell into Human Resources & Recruiting over 18 years ago after she was promoted to Personnel Manager for a national retail establishment. A few years later, she stepped into a Recruiter role for an International Corporation and found out that she loved being able to find the exact candidates that her clients needed. Soon thereafter she was recruited into an HR Director role within Property Management where she would spend the 11+ years recruiting and handling all the company's HR needs. She is a member of 5 committees for the Property Management & HR industries and helps at multiple industry events. Aubrey has spent the last 18 years finding candidates their ideal role and the client or management team their ideal candidate. When she isn't working, she is attending sports events and traveling with her fiancee' or spending time with her friends, family, and goddaughters.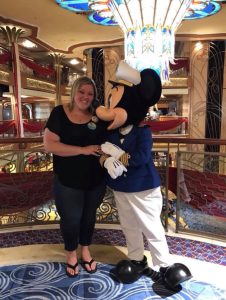 How would you describe yourself in 3 words?
This is a hard one but if I had to describe myself in 3 words I would say:
Caring – I truly care about others more than myself
Motivated – If I don't know the answer, I will find someone who does. I work hard and take the initiative to do more than is ever expected or asked.
Trustworthy – I try to be authentic, honest, and humble.
It's a typical Saturday afternoon at 2 pm, what are you doing?
I would normally be at Penn State (men's football), UNC (men's basketball), at the Yard (Orioles Baseball) or at the Lyric or Hippodrome watching a musical, play or show. If not, I would be spending my time relaxing with my fiancee or family enjoying a free weekend.
Where is the best place you have traveled and why?
My favorite place would be Sorrento, Italy. We took a Disney Mediterranean Cruise and Sorrento was one of the stops. It was beautiful, quaint, and somewhere I could just stay for weeks on end and enjoy the beauty and history.
What characteristic do you most admire in others?
Integrity is something that I value and admire in others.
If you could do another job for just one day, what would it be?
Growing up I always wanted to be a doctor, so that i could help people. No matter what field I am working in, I always try to keep that simple philosophy, and mindset in anything that I do.
What is the last gift you gave someone?
The last gift I gave was Christmas gifts to my family, friends, and goddaughters.
If you could give advice to your 13-year-old self, what would you say?
What you believe matters now, will not when you get older. Be kind to people, you never know what they are going through. When people are mean it says everything about them and nothing about you. Don't be so busy trying to build a life that you forget to live.
Tell us something that might surprise us about you:
I sing and I originally went to school to be a Pediatric Neurosurgeon.
What are three things still left on your bucket list?
Own my own business, visit every continent, achieve 0 debt
What are you most proud of?
I am most proud of having a great relationship with my Mom. She is a truly amazing, selfless human being, who never cares about herself. She is brilliant and a daily inspiration to her whole family and everyone she comes in contact with. If I become half the woman she is, I will consider that a success.