Aimee is a graduate of Virginia Commonwealth University. She entered the world of recruiting in 2012, recruiting for a vast array of industries including IT, admin, and customer service but with a focus on marketing and creative. She gained experience recruiting for clients ranging from small boutique ad agencies to Fortune 500s. Aimee joined MSB Resources in 2014. Since then she has been helping property management companies and real estate developers identify the right people nationwide, for positions ranging from the site level to the executive level. She also works extensively with vendors to the industry seeking account management and business development professionals.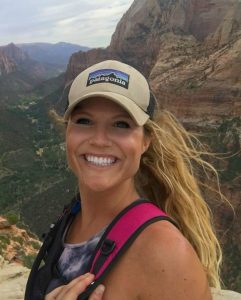 What are three words you'd use to describe yourself?
Free-Spirit, Dog-Lover, Nature-Junkie.
What are you doing at 2 p.m. on a typical Saturday afternoon?
In a perfect world, no Saturday would be the same. Routine is the enemy of time! I like to get out of town and take my RV to the mountains, the beach, music festivals or anywhere I haven't been before. If I stay in town, I'm typically brewery hopping with friends, going to see live local music, or at the river with my dogs.
Where is the best place you have traveled and why?
I couldn't pick just one. I have an impossible-to-quench wanderlust that has dragged me to so many incredible places. With that said, I'll just choose my most recent trip to Havasupai Falls in Arizona because it's fresh. I road tripped to the Southwest and backpacked into this far western portion of the Grand Canyon to have my mind blown by the crystal blue water of Havasu Creek and the colossal falls that spill into them. I spent 2 nights and 3 days camping and hiking around this hard-to-reach but so-worth-it oasis flanked by the towering red rock of the canyon and was in absolute heaven. It's difficult to get access to this natural wonder because it's located on tribal land and permits sell out so quickly, which made it all the more exciting.
What characteristics do you look for in others?
Open-minded, accepting, spontaneous, hard-working, and maybe a touch of odd-ball….those are my people.
If you could do any job for one day, what would it be?
A Musician/Singer on the day of a sold-out stadium show.
What is the last gift you gave to someone?
I gave my friend a gift bag with trinkets I picked up throughout our trip to Charleston for her bachelorette party…just a little something to remember the weekend by.
If you could tell your 13-year-old self anything, what would you say?
There are going to be a lot of stages in life, love them all for what they are and don't let them scare you. I promise you will come out of the tough ones on top. You were blessed with the most amazing parents who are going to be there for you through it all, even in adulthood…don't be such a little jerk to them. Your braces look horrible right now but your future smile is going to be the first thing people notice about you…they're worth it. People that show you new music and authors are important. Listen to the album. Read the book. Your life's timeline is not going to line up neatly with everyone else's and that's okay. Tanning beds are not your friend…botox is expensive. I know you hate sharing the house phone now, but someday down the line you're going to become a slave to an expensive little cellular device and you're going to hate it. Relish this.
What's one thing that might surprise us about you?
I worked in Negril, Jamaica for a few months, living in a little bungalow on the beach that barely had running water and spotty electricity. I fell so in love with the island and the people that I got an "irie" tattoo on my back. I still consider myself a Jah-merican.
Top three things left on your bucket list:
I could never narrow it down to just three. My bucket is way too full. So I will name three bucket list items that I would like to have checked off within the next 5 years instead. 1) My brother just moved to Cape Town so I have my sights set on an African/South African trip, jam packed with wine tastings, cave diving with sharks, a multi-day safari, and hiking. 2) I've traveled all over the U.S. in my RV but still haven't hit all 50 states. I would like to knock the rest out in the next few years. I still have some northern states and Alaska to check off. 3) Purchase my first home with a lot of land to give my dogs the life they deserve.
What are you most proud of in life?
My rescue work. I volunteer for rescue organizations and, in the past 2 years, have fostered over 15 dogs, giving them a safe haven from kill-shelters until finding them a forever home. I have rescued 3 mutts of my own as well. They are my little four-legged family, my prides and joy, and the stars of my camera roll.